WELCOME
Welcome to the Fanfic Wikia, a public site database of the fictional company, The Fanfic Company, or most commonly known as Fanfic. This wiki is available to be edited by anyone but this ability should not be taken for granted. The wiki reserves the right to ban anyone from the wiki if they are caught violating the site policy. Information on this wiki is strictly fictional and not all written here is factual. Feel free to message any available admins for help. Enjoy your stay!
FANFIC CHANNEL FACTS
Fanfic was founded on December 2, 2011
Aaron Moon is the current President and CEO of The Fanfic Company
Fanfic is leading in the fictional mass media company on the internet
Fanfic launched its first television network, Fanfic Channel, on March 1, 2012
Fanfic launched two studios, Fanfic and Wonder, in the year 2014 alone
Fanfic originally planned to launch a second television network, ASM Network, but was postponed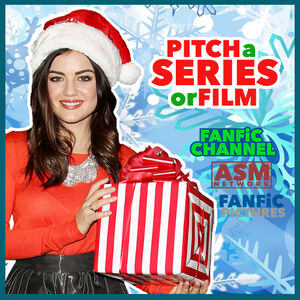 ABOUT
The Fanfic Company, most commonly known as Fanfic, is a fictional american multinational mass media corporation headquartered in Burbank, California. Fanfic was founded by Aaron Moon in December 2, 2011 and has been leading in the fictional film and television industry.
PITCH YOUR IDEAS
270px
Everyday, Fanfic is looking for talented writers around the globe to create and pitch ideas for tv series and feature films. If you have an amazing idea, come on to the Pitching Board to send in your ideas and you might just be the lucky ones to get approved as an official Fanfic creator! For more information on how to pitch an idea, visit Series Production Process.
UPCOMING
| | |
| --- | --- |
| 11/20/15 | Vulture Premiere |
| 11/20/15 | My Musical Life Premiere |
| 12/12/15 | The Last Christmas Premiere |
| 12/19/15 | Fanfic Holiday Parade Live |
| 01/08/16 | Invultra Premiere |
FICTERTAINMENT


For more news and other articles about fictional tv and film, visit Fictertainment, a blog about everything Fanfic! If you are interested in becoming an author for the blog, leave a message to any of the admins available. Click on the photo above to visit the blog!
Ad blocker interference detected!
Wikia is a free-to-use site that makes money from advertising. We have a modified experience for viewers using ad blockers

Wikia is not accessible if you've made further modifications. Remove the custom ad blocker rule(s) and the page will load as expected.